Rocky Mountain Blacksmithing Conference
2017 Conference
Dates
August 9, 10, 11, 12, 13 - Wednesday through Sunday
Registration
Click here for the Conference Brochure and Registration Form
Location
The Rocky Mountain Blacksmithing Conference is held at the Francis Whitaker Blacksmith School on the campus of the Colorado Rocky Mountain School in Carbondale, Colorado.
Schedule
If the schedule does not appear below, click this link to open the pdf document RMS Conference Schedule 2017
Safety
Please wear safety glasses and hearing protection in the forge.
T-Shirt Contest
Time for the 2017 Conference logo T-shirt contest.
Due Date: June 1 2017
The rules are:
Designs must be your original artwork
The shirt must say Rocky Mountain Blacksmithing Conference
It should have the date and Carbondale Colorado
The winner gets a free t-shirt and hat and bumper sticker
Submit to:
Scott Kretschmer
196 Mule Deer Dr
Loveland, CO 80537
970-567-2609
scott@kretschmershops.com

Demonstrators
Rachel David
Rachel David is a sculptor working primarily with forged steel. Her work is concerned with social justice, community, emotional communication and the environment.
She has been a visiting artist and teacher around the country including Appalachian center for Craft (TN), The Crucible (CA), and the New Orleans Center for the Creative Arts.
Her work has been published in books and magazines including Ironwork Today 4, Imago Mundi; Reparations, (T)Here Magazine, FFJ: Formed And Fabricated Journal.
While her studio practice also includes commercial projects for a national client base, her unique furniture and sculpture have been collected by the City of New Orleans, Helis Oil Foundation and numerous private collections around the country. 
Rachel has always had a consuming creative streak and works diligently to improve her skill as a metalworker and as a citizen of the world.
John Winer
The story of my life reads like a Tom Robbins novel. At eighteen years of age, I found myself a full time street musician in the city of New Orleans. By the age of twenty one, I had performed in bars, festivals, on street corners and in prisons in close to forty states. I had had a radio show at the University of South Carolina at seventeen.
By thirty, I had become a landowner in the mountains of East Tennessee where I still reside, and was pursuing a life as an organic market farmer. Unable to make a living selling produce and needing tools and contraptions for the farm, I became an itinerant Millwright/welder and that is what paved the way to becoming a blacksmith.
As an artist/blacksmith, I have produced high-end architectural work as well as furniture designs for a leading iron furniture company. My work can be seen in the Anvil's Ring, The Hammer's Blow, Furniture Style Magazine, High Country Magazine and Kitchen Trends Magazine. I have also been featured in the books From Fire To Form, Ironworks Today 3, and The Art Of Community, the Janet and Jim Ayres Collection.
I currently run a small smithy on my farm and take a very musical and improvisational approach to the design concentrating on the fluidity and motion of lines.
Monica Coyne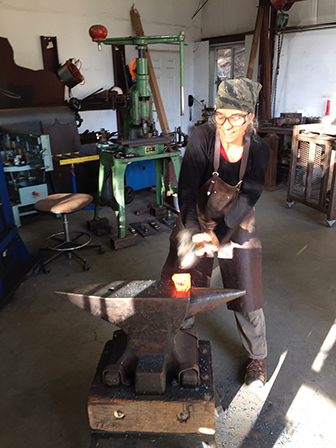 Monica Coyne studied Industrial Arts at Humboldt State University with an emphasis in woodworking. She began blacksmithing in 2004. She is an instructor with the California Blacksmith Association (CBA). She has been a featured demonstrator for the Artist Blacksmith Association of North America (ABANA), the Northwest Blacksmith Association (NWBA) and the CBA conferences. Her work has been published in "The Anvil's Ring", "HEPHAISTOS" the International German Metalworks Magazine, "Iron-work Today 4", "NOMMA" magazine "Skills of a Blacksmith, Traditional Joinery" by Mark Aspery, and Fine Homebuilding Magazine
To see examples of her work please visit Monica Coyne Artist Blacksmith or Facebook - Monica Coyne Artist Black